High reactive power loads in steel plants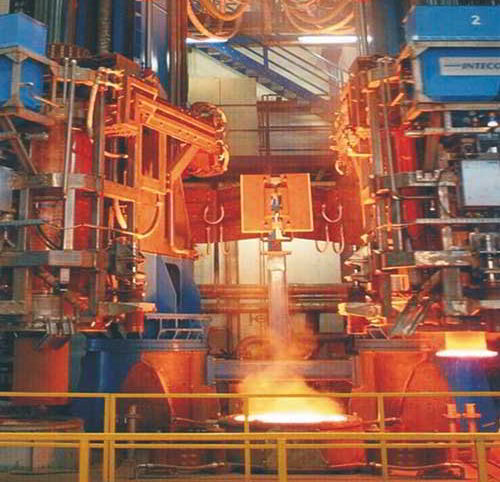 At Deutsche Edelstahlwerke in Siegen, Germany, two ESU melting plants with a melt current in the high-current circuit of 18 kA were installed by the company INTECO. The challenge for SYSTEM ELECTRIC consisted in optimizing the high reactive current load in the 690 V circuit of the 2-phase transductor power supply. The high load caused by the 3rd voltage harmonic (UH3= 8%) had to be considered as well.


The SYSTEM ELECTRIC solution
Two units of 2-phase process-controlled capacitor banks of 1200 kVAr each, switched in 4 or 8 steps, 16% reactor protected, with overload switch and monitoring of all relevant system parameters.
Similar units with an installed power of 8,500 kVAr / 600 – 980 V unload the power systems and reduce the energy costs for Stahlwerke Kind u. Co Wiehl, Germany, Saarstahl-Völklingen, Germany, Fomas SPA, Italy, Dongbei Special Steel Group and Fuschun Special Steel in China and Iran.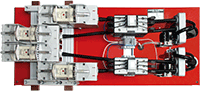 Capacitor switching modules and systems for medium-voltage applications up to 10 kV
The Aleppo Water Supply project in Syria was equipped with 37 capacitor switching modules for the fixed compensation of water pumps.
The power per module ranges from 100 to 300 kVAr at 6.3 kV, 50 Hz (total installed power: 7700 kvar).
The assemblies were delivered complete with monitoring equipment and dry, environment-friendly and self-healing 3-phase capacitors with current-limiting inductors, switching isolator and fuses. The system was put into operation by SYSTEM ELECTRIC.

At cement plants and pipelines in China, detuned fixed capacitors and automatically controlled systems with an installed power of more than 50,000 kVAr were equipped with modules from SYSTEM ELECTRIC over the last years.